It wouldn't be Oscar Monday Tuesday without a red carpet recap, would it? (Needed a little time with my house guest yesterday, I hope you'll forgive me for being late!) What did you think? Who was your best-dressed? I'll admit that going in, I didn't have high hopes for Seth MacFarlane as host (his brand of humor is not my cup of tea), but I tried to keep an open mind. There's no doubt the guy is a talented performer and a creative dude. But perhaps not surprisingly, he didn't win me over on Sunday: the crassness was a bit much, I'm not really one for boob jokes, and the William Shatner bit felt really, really long. What did you think? (Also: Amy and Tina Oscars 2013. Make it happen, Academy.)
And with that out of the way, the clothes:
Even though her dress would require its own seating area, girl I'd most want to grab a drink with: Jennifer Lawrence. This dress was very much a "Hi, I'm here to pick up my Oscar" look, but hey, she followed through (in, of course, never-to-be-forgotten grand style, and somehow making everyone LOVE HER in the process).
Jack Nicholson was obviously smitten
.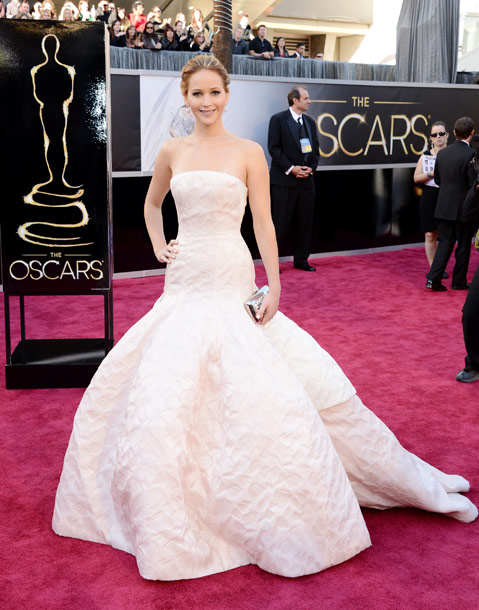 Really got the short end of the Rachel Zoe-styled, pale-pink-dress-with-backwards-necklace look: Anne Hathaway. Guys, I feel badly for her. It was the biggest night of her career, and instead of people talking about how she won and gave a great performance, everyone's talking about her nipples. Ugh. You know that is NOT the outcome she was hoping for, nor the one that she deserved (even taking into account her overly breathy acceptance speech). There are some
interesting rumors
about how and why she switched up dresses at the last minute, and with Prada's
history of clothing Anne is some very questionable bust darts
, I would LOVE to see the behind-the-scenes look at this on The Zoe Project. Mostly, I hope she is consoling herself by swanning around her house, eating bonbons, wearing that fabulous necklace and snuggling with her Oscar.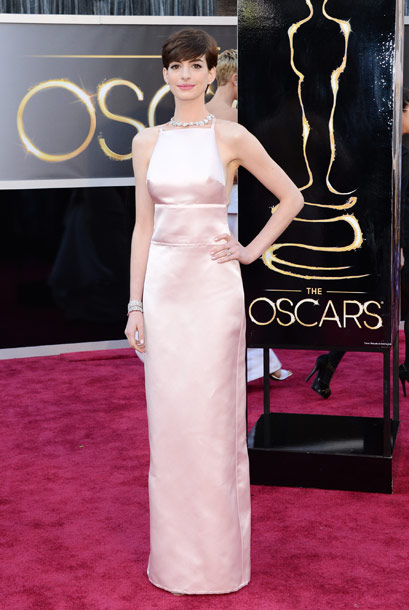 Winner, despite being neither nominated nor an actress: Stacy Keibler. She just looks so damn GOOD. This dress is stunning. (Can you imagine wearing giant circles of beads over your hips like that? I'm going to need to eat some chocolates just to help myself recover from the very THOUGHT.) This Gatsby thing she has going is just beautiful. She wins.
One of other my favorites: Jessica Chastain. Her head looked fantastic, and this dress, which looked sort of washed out on the red carpet, deeper gold on the telecast, and a very pretty copper in photos, must have looked amazing in person. She is obviously a remarkably slender woman with a beautiful figure, but she has a habit of wearing things that make her midsection look truly odd. This fits her beautifully. YAY TAILORS. This classy Jessica Rabbit look really suits her.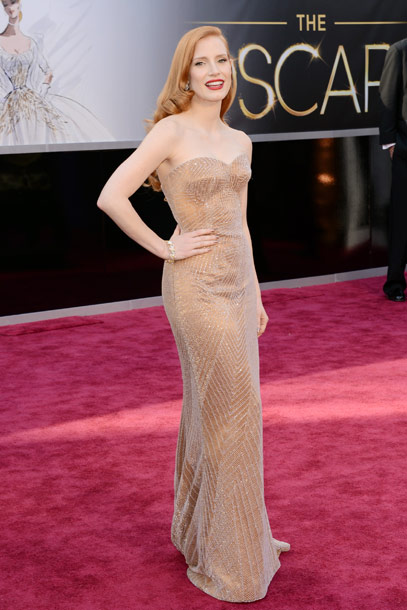 Knows what works for her and works it: Adele. The sparkly black dress, big hair (as my friend Emily calls it, Bumpit hair!), serious liner and lashes, and her lovely personality never fail her. And her voice isn't too bad either.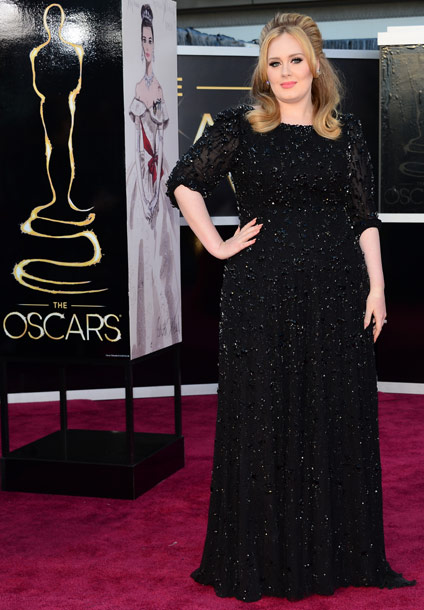 On my bad side after the umpteenth time she did her "I'm so tiny!" and awkwardly compared herself to everyone on the red carpet schtick: Kristin Chenoweth. You're petite. We have eyes, WE KNOW. Your dress is pretty, but I'm too irritated to add much else.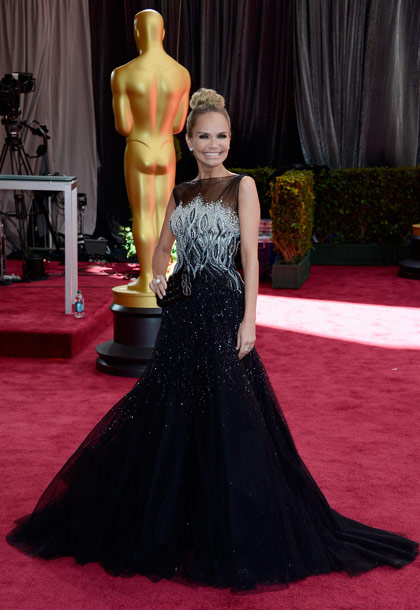 BEST ACCESSORY: Quvenzhané Wallis. Her puppy purse was wearing a tiara, which just delights me. (If you are similarly entertained, you can read more about the puppy purses
here
.)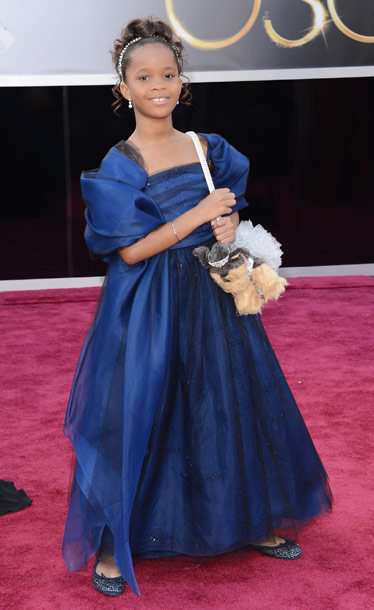 Worst color: Amy Adams. This may have been better in person -- I think it was a silvery blue -- but onscreen and in photos, it takes on the color (and texture) of old rags, which one can only assume was not the effect she was hoping for.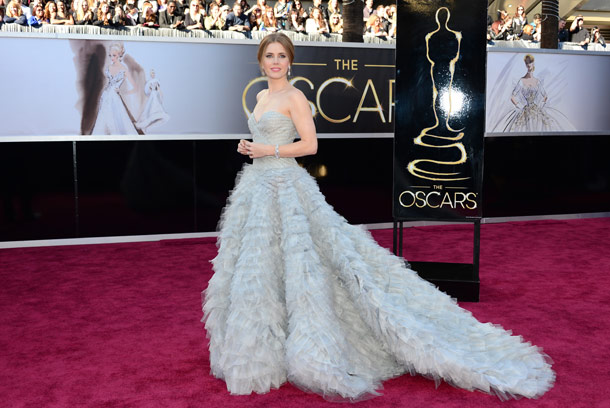 Sucks that she was on crutches (I mean, can you imagine?), but that fails to explain why she appeared to be a) high and b) wearing a dress that was so unflattering on her very lovely figure: Kristen Stewart.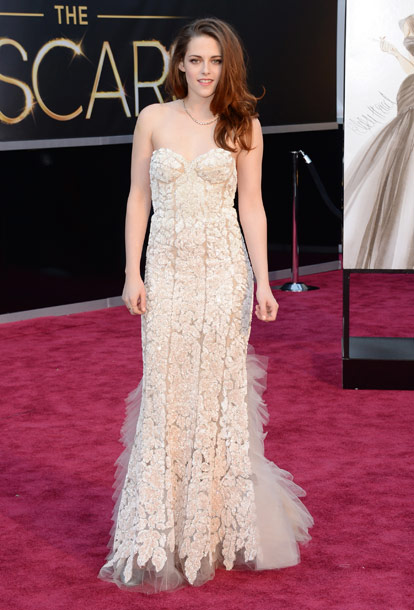 Loved the top, not sold on the bottom: Nicole Kidman. (I am also not sold on Keith's hair, but that's a topic for another day.)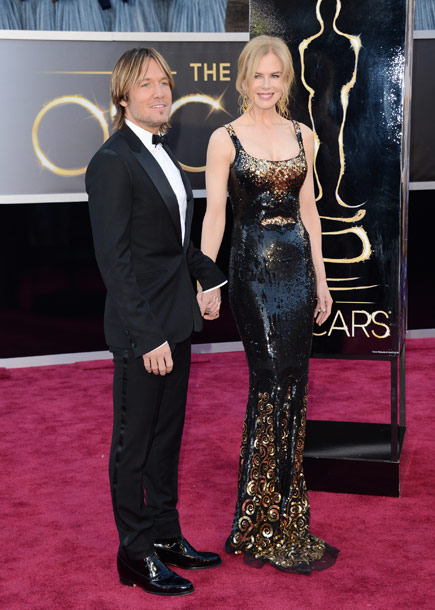 Loved the bottom, not sold on the top: Sally Field.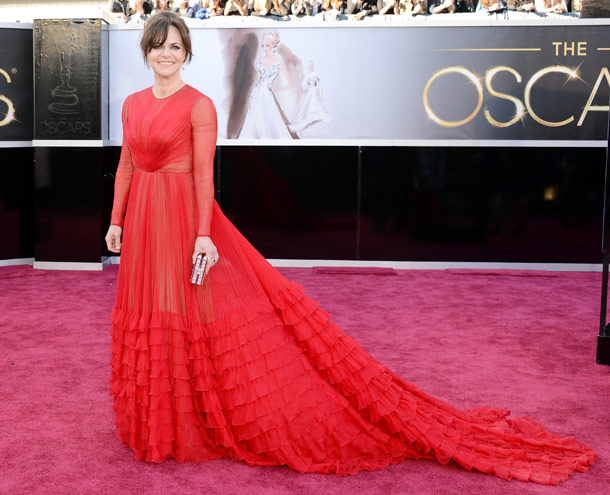 Very formal bathing suit and towel wrapped around her waist: Olivia Munn. (Seriously: she just needs a formal swim cap and she'd be set for The Radio City Music Pool Rockette Christmas Water Ballet Spectacular.)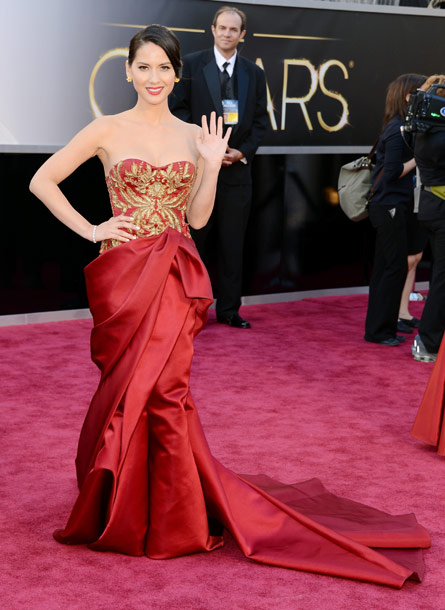 Letting my feelings about her cloud my judgment about the size of her backside rufflestravaganza: Jennifer Garner. She had me when she teared up on the red carpet when Chenoweth asked her about Argo winning best picture and she said she couldn't even think about it. It was really sweet and hey, when you're a famous actress married to Hollywood's golden man who is sporting a playoff beard with his pal Clooney at the Oscars, drama is the order of the day, isn't it? (I also kind of hope that Ben bought her that necklace to make up for his somewhat garbled "honey, I love you and our marriage is work BUT IT'S GREAT WORK WHOOPS" moment. Stars: they're just like us and say awkward things too.) PS: how did she sit in this?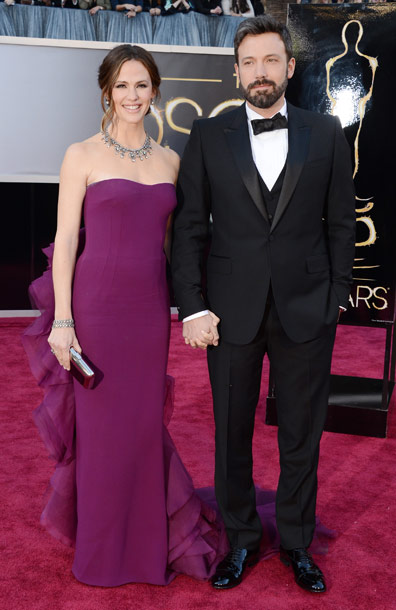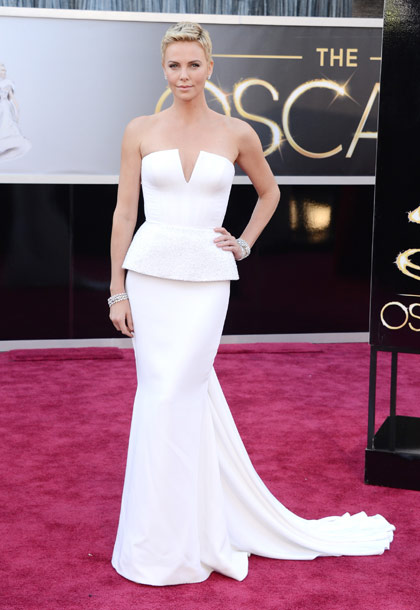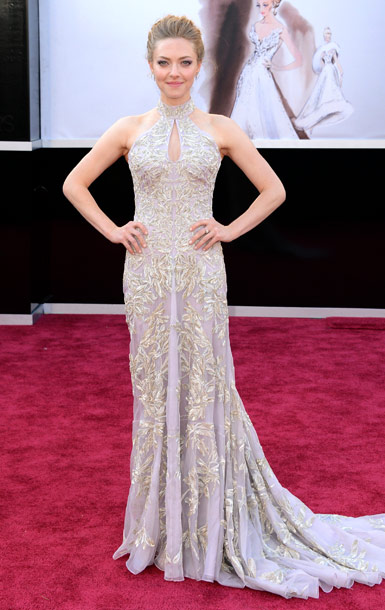 By all rights, I should love this, but for reasons unknown, I just don't: Kerry Washington. I don't think she's losing any sleep over that, and the color is pretty, and there are sparkles, and a bow . . . but overall, this seems less than the sum of its parts.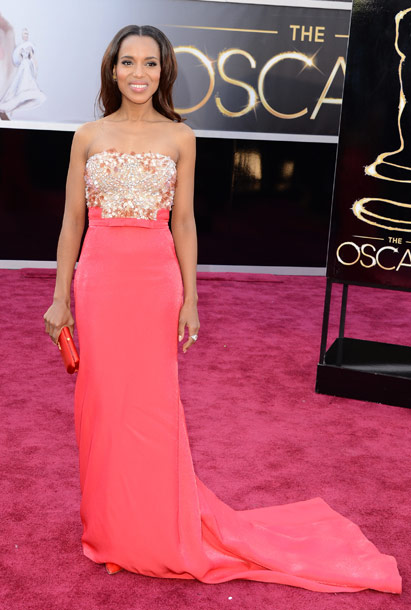 HEADS SHOULD ROLL OVER WHO DID THIS TO HER: Melissa McCarthy. She could and should look so, so much better than this. It's a bedazzled, formal, floor length sweatshirt-robe with a faux leather liner. That has to be hot, and it is so, so unflattering. I think we can just leave it at that and not discuss her hair, right?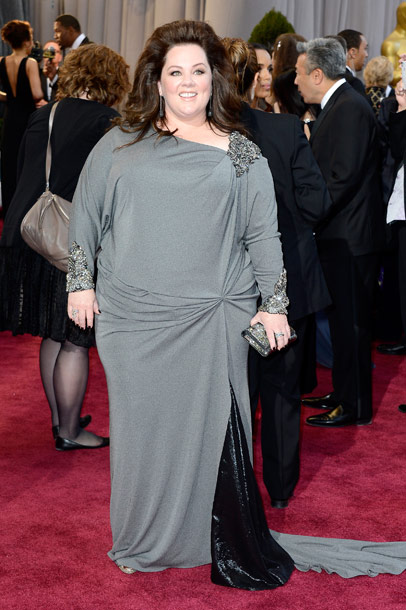 The Cheese Stands Alone Award: Reese Witherspoon. I think I'm the only person who liked this. First, her hair and makeup are absolutely flawless. Second, the color is so pretty. Third, unlike, apparently, the whole internet, I think the bow detail at the bust is cute. Reese
is
cute: she can pull off stuff like that. And there was a lot of "
I've seen her wear this before
" comments, but I'm okay with it: she had a baby not very long ago, and I have to imagine you'd want something with some structure to it if you were in that boat.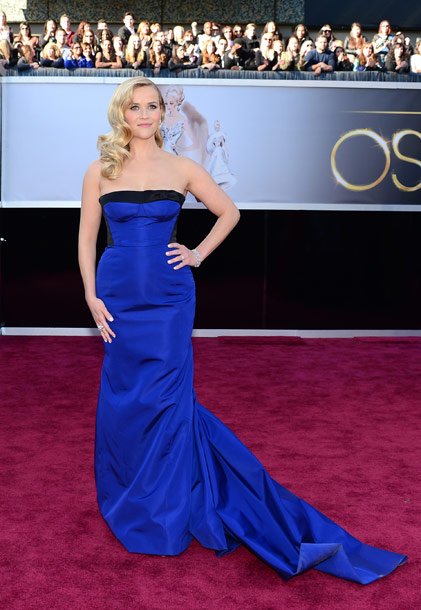 Honorable Mention Cheese Stands Alone Award: Octavia Spencer. It has a sort of ethereal feel to it, and the color looks beautiful with her skin. The pearls are pretty and different than the usual sparkles, sequins, and beads. I keep wanting to say that it has a Grace Kelly essence about it, but I don't know exactly why. (PS: Octavia, PLEASE PLEASE PLEASE call Melissa McCarthy and get her hooked up with Tadashi Shoji. Also, please be friends because I think you two would be hilarious together. Thanks.)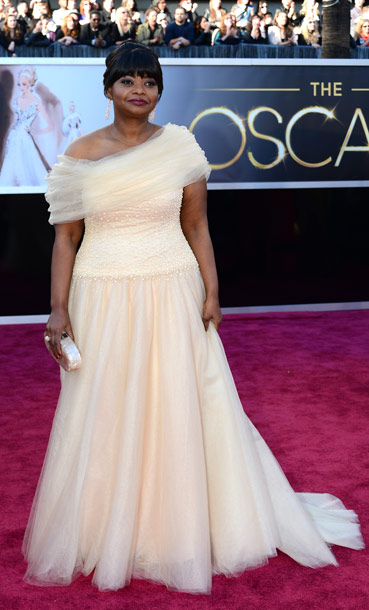 Standing ovation for WEARING A COLORED BALL GOWN IN LIEU OF A FLESH-COLORED SPARKLY TOGA: Jennifer Aniston. This dress is beautiful but nothing earth-shattering, but when you saw her, it was surprising.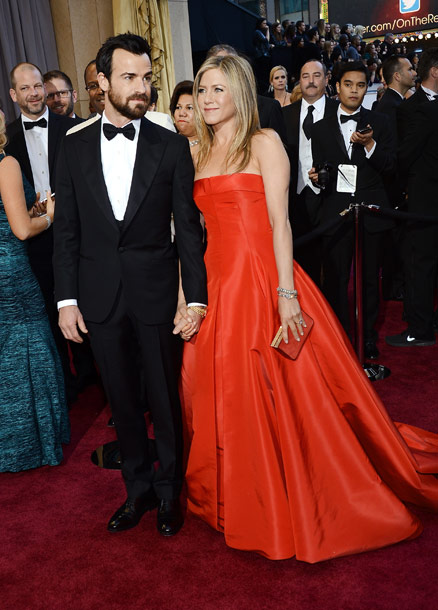 Put a lining in it: Sandra Bullock. Beautiful dress, but the sheer part just looks awkward, doesn't it?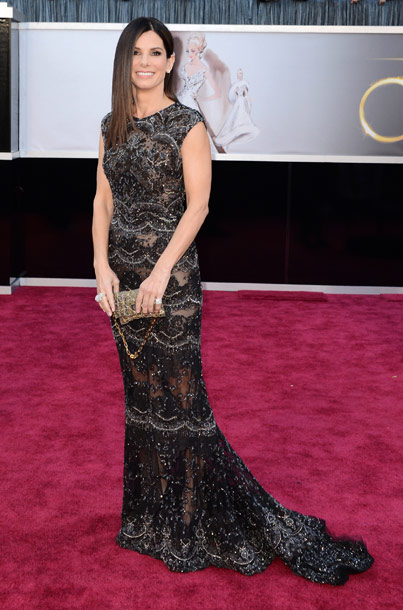 Ran out of sequins and bottom of dress bears unfortunate similarity to pantyhose: Catherine Zeta Jones. (Aside: slow clap for having such cut arms and an awesomely fit figure, CZJ. Well done you.)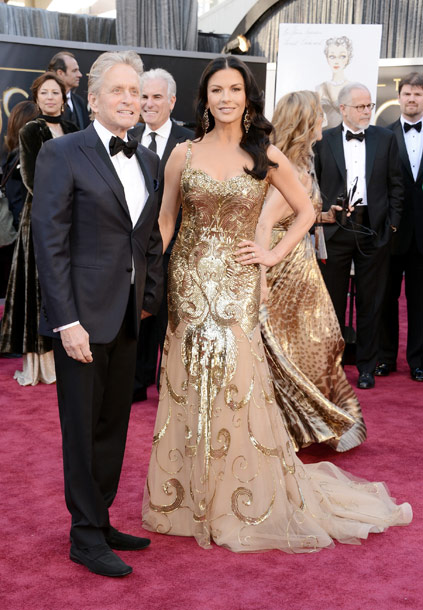 What I fantasized that all prom dresses looked like when I was in grade school in the early 90s: Salma Hayek.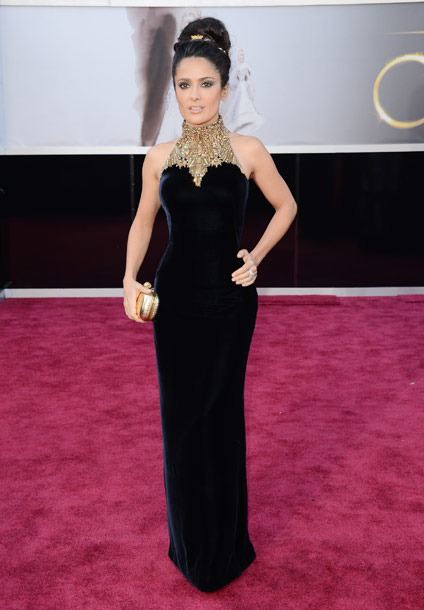 Begs the question of whether she really WANTED to wear H&M to the Oscars (and the sub-question of whether I'd be noticing the wrinkles as much if I didn't know its provenance): Helen Hunt. Don't you get the sense that this was a nobody-wanted-to-point-out-that-the-emperor-has-no-clothes-situation, and everyone just kept nodding along in approval?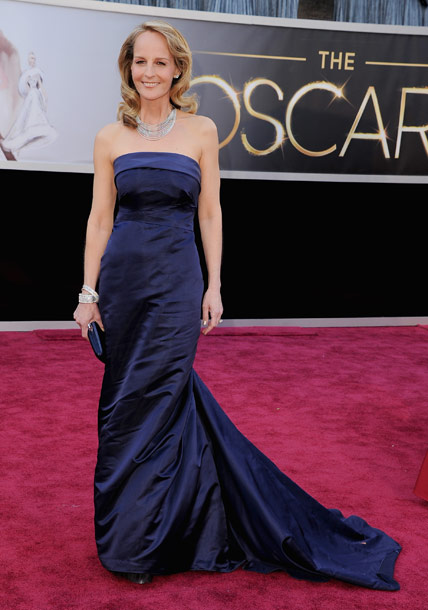 Much like this dress, I am completely of two minds about it: Naomi Watts. My first thought on seeing this was that I wanted it to have two matching sides, instead of this multiple personality situation. But it's grown on me and I wonder if it would just be sort of standard if it didn't have an internal sleeve conflict going on. You can't say she looks anything less than gorgeous.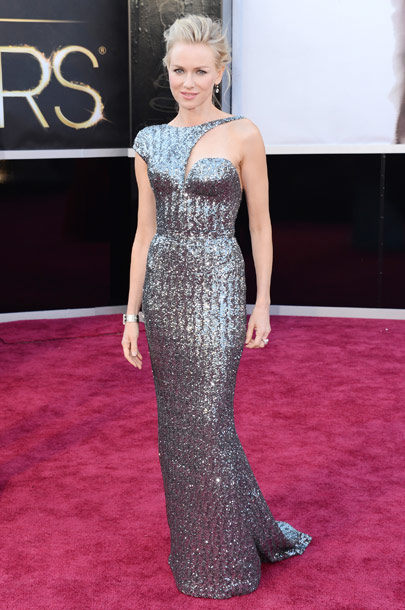 Looks remarkably classy given that we're a high note away from seeing her belly button: Samantha Banks.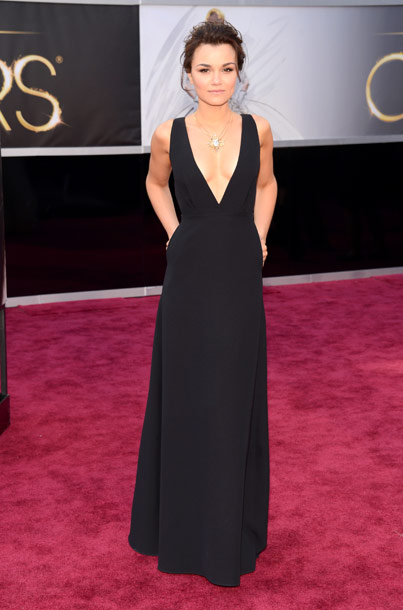 Kudos for going big on the color front, unlike just about every single other woman present: Jane Fonda. (Though wouldn't this have been kind of awesome in white?)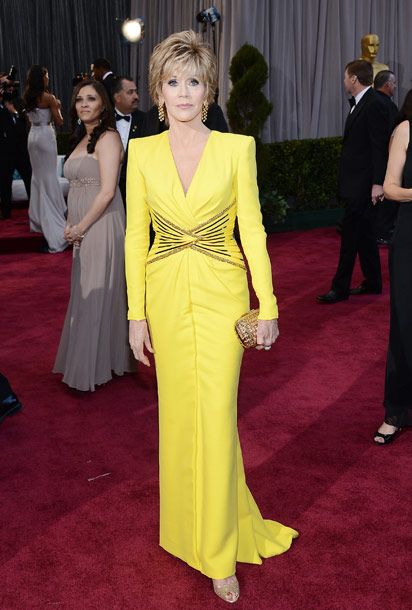 Should be off-putting, but it's not: Kelly Ripa. I think I'm being seduced by the pockets and the fit, which is impeccable.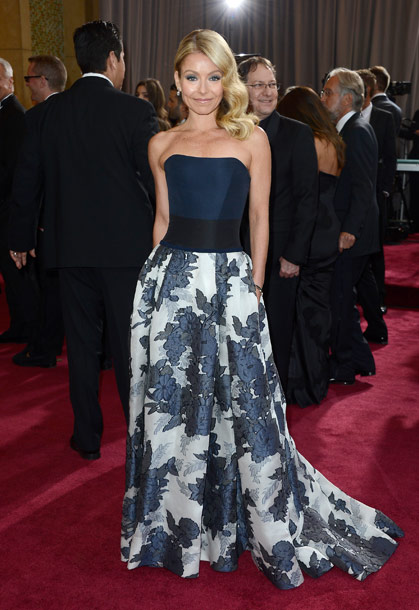 And YAY FOR RECOVERY: Robin Roberts. Plus your dress is awesome!