No, you are not in a time warp: the Emmys were a whole week ago. This is what happens when your editorial staff won't quit their day jobs. You're probably wondering why I'm still posting this recap, but if nothing else, my mom keeps saying that she's looking forward to it. So this one's for you, mom!
Just a warning, we are about to talk a lot about boobs right off the top here. I can assure you this was unintentional, but consider yourselves forewarned.
Christina Hendricks: quite possibly my winner. Yes, she's wearing a black dress and this is not particularly earth-shattering on its own merits, but it fits her gloriously and that has been a problem for her in the past. This is Christian Siriano, and I hope she sent him a delightful gift basket or fruit bouquet, because I don't think she's ever looked better on the red carpet. And let's all take a moment to think about what Christian Siriano (who my mom hilariously refers to as "the one they carried in a bag on Project Runway") and Joan Holloway Harris hanging out for some girl time would look like. Giggle.
Now for a bunch of ladies who did not handle their assets as admirably as Ms. Hendricks up there. First up: Claire Danes. Girl, YOU KNOW BETTER. I am in no way advocating for padding yourself up or just wearing a turtleneck when you're not exactly busty -- I'm a big fan of the plunging v on a lady with Claire's build. But this is a weepy, too-low, but at the same time too-small, really unfortunate situation. The bodice needs to be hiked up, but also longer, doesn't it? This is bad, dear. Bad. You might've been better off in a Carrie Mathison costume, and that's saying something. (PS HOMELAND TONIGHT YAY.)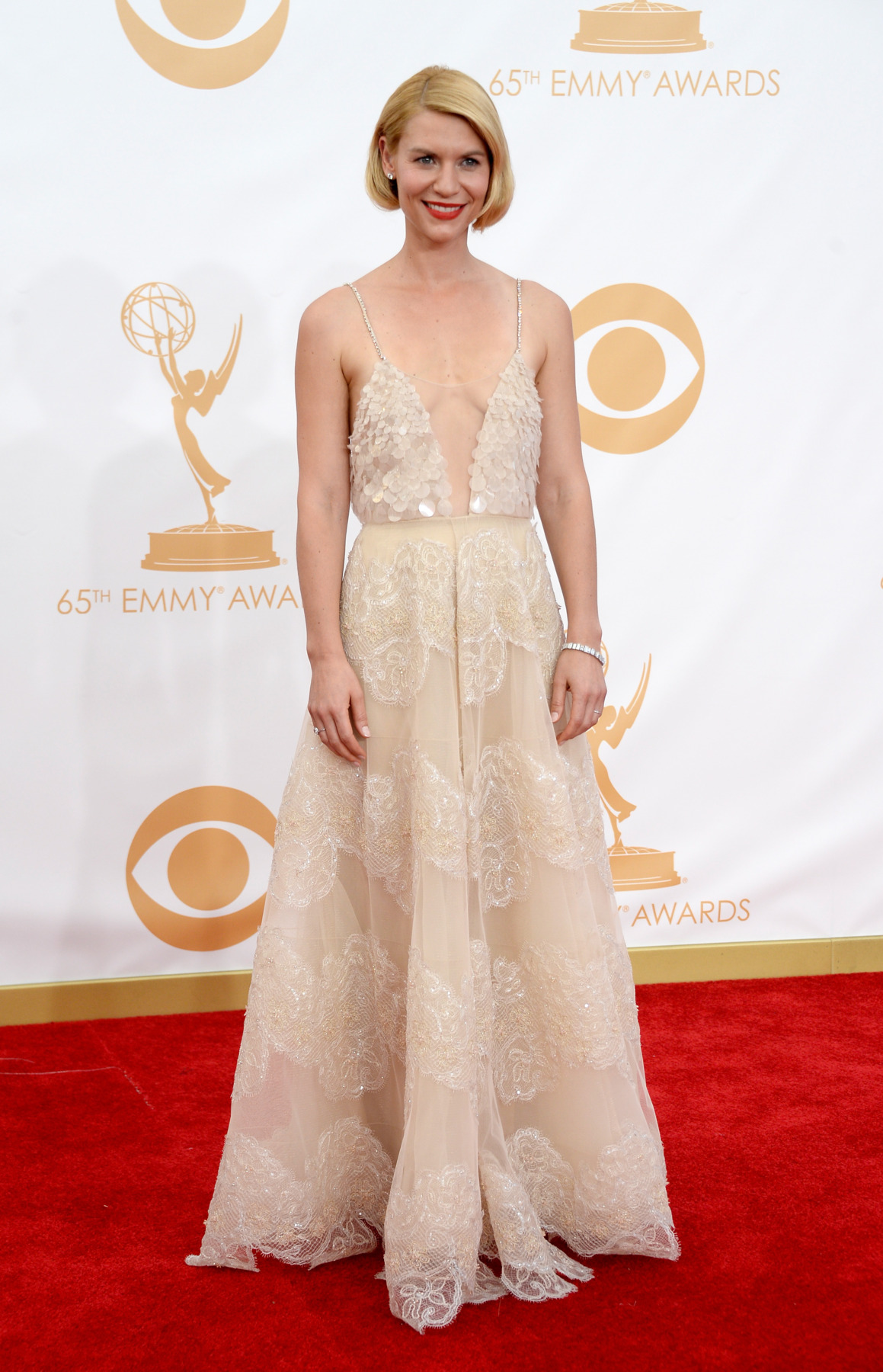 And then you've got January Jones here, who is wearing a spectacularly boob-smashing Givenchy. How did they do that to her? The top of this looks like one of the foundation garments Gwyneth Paltrow wore to pretend that she was a man in Shakespeare in Love.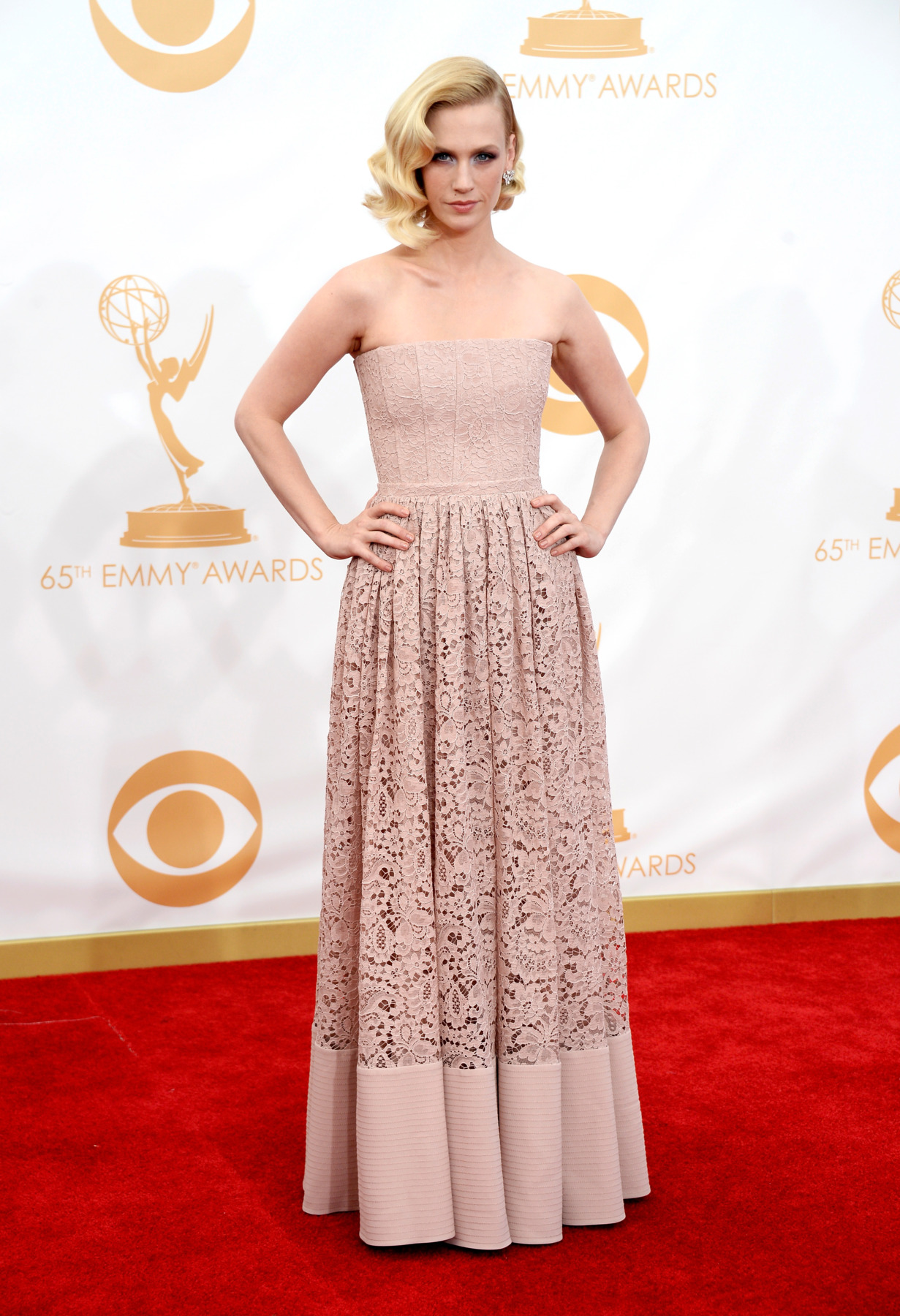 These two dresses are being brought up on charges of crimes against boobs. Both Cobie Smulders and Zosia Mamet's gowns have these teeny tiny boob mask things that look like they were sized for 10-year-old girls. At least Cobie's is the same color as the rest of her dress, whereas Zosia's looks a bit reminiscent of the Hamburglar. (Mmmm, hamburgers.)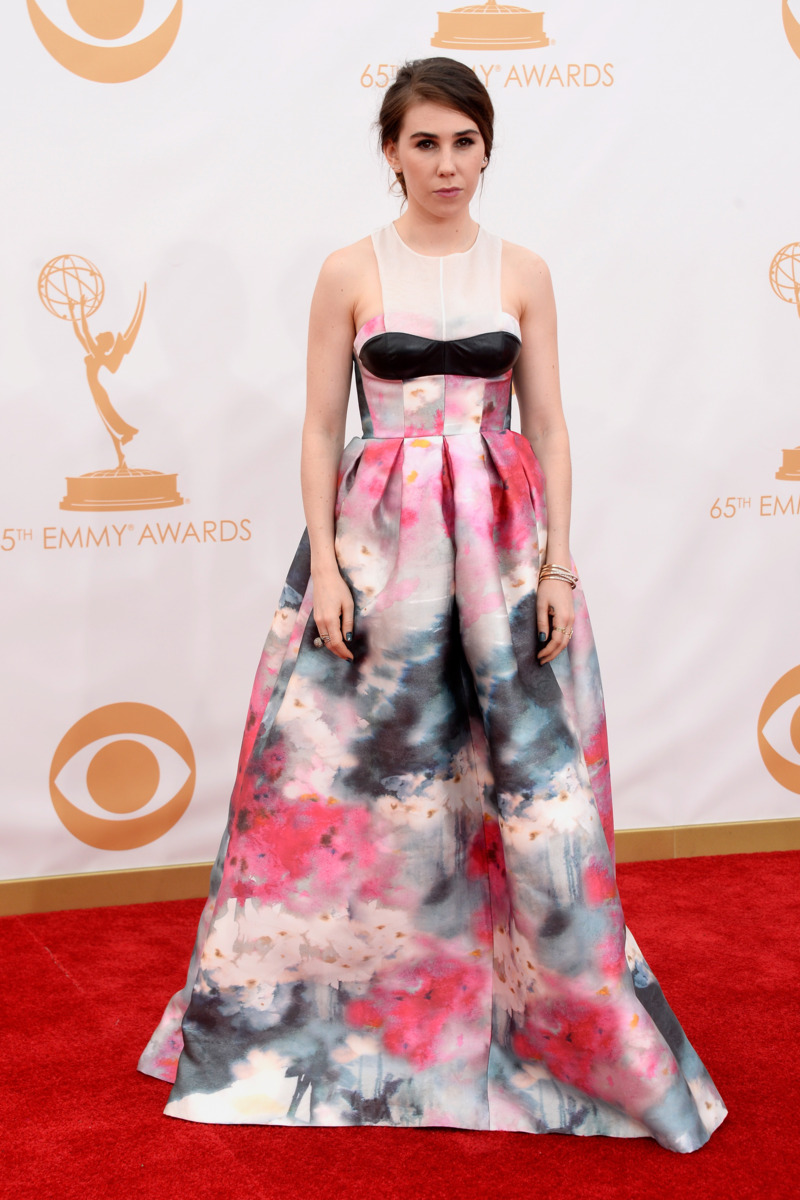 Speaking of crimes: Heidi Klum's dress is trying to murder her by strangulation.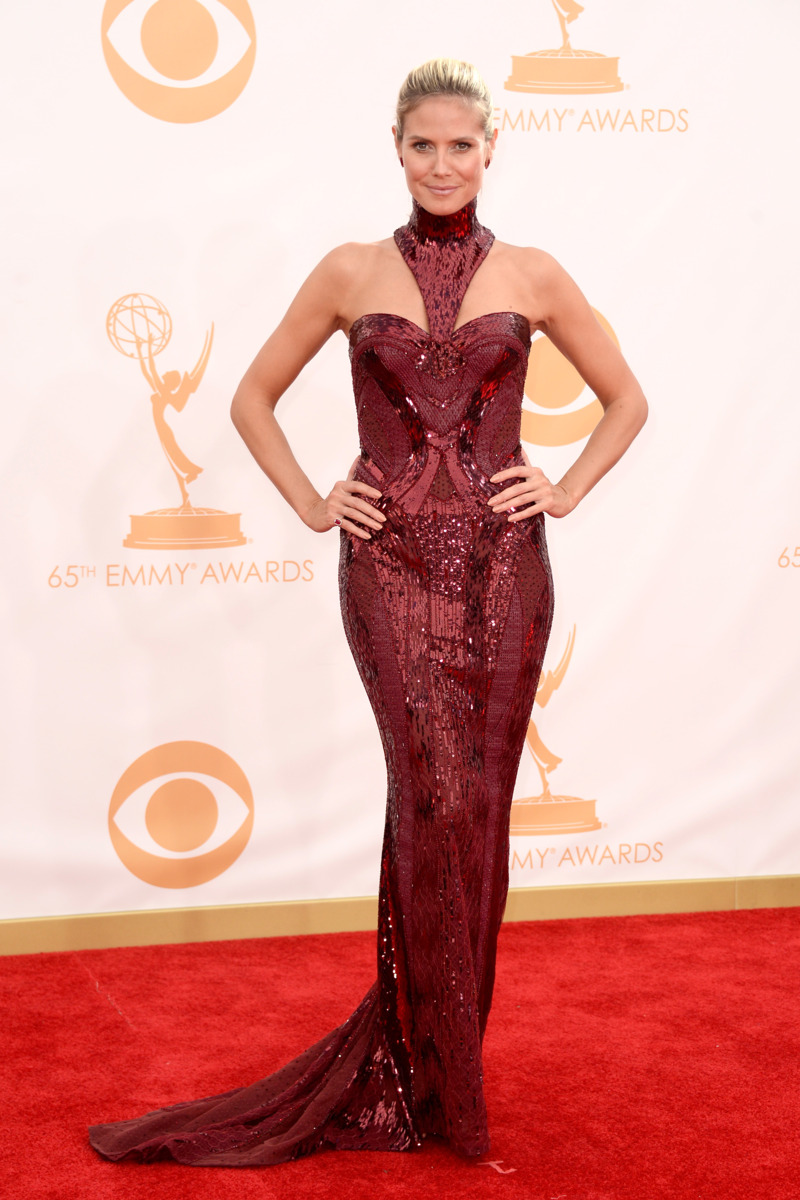 Not my cup of tea, but damn if Olivia Pope Kerry Washington isn't pulling this off. This is Marchesa on steroids (ribbons! mesh! flowers! tulle!), but you can't say she doesn't look lovely in this. It's gorgeous with her skin color. Who am I kidding? This is really just a springboard to talk about Scandal, which I have just started watching and can't stop. It is so very soapy and shenanigan-heavy, but so, so addicting. Watch so we can all talk about it.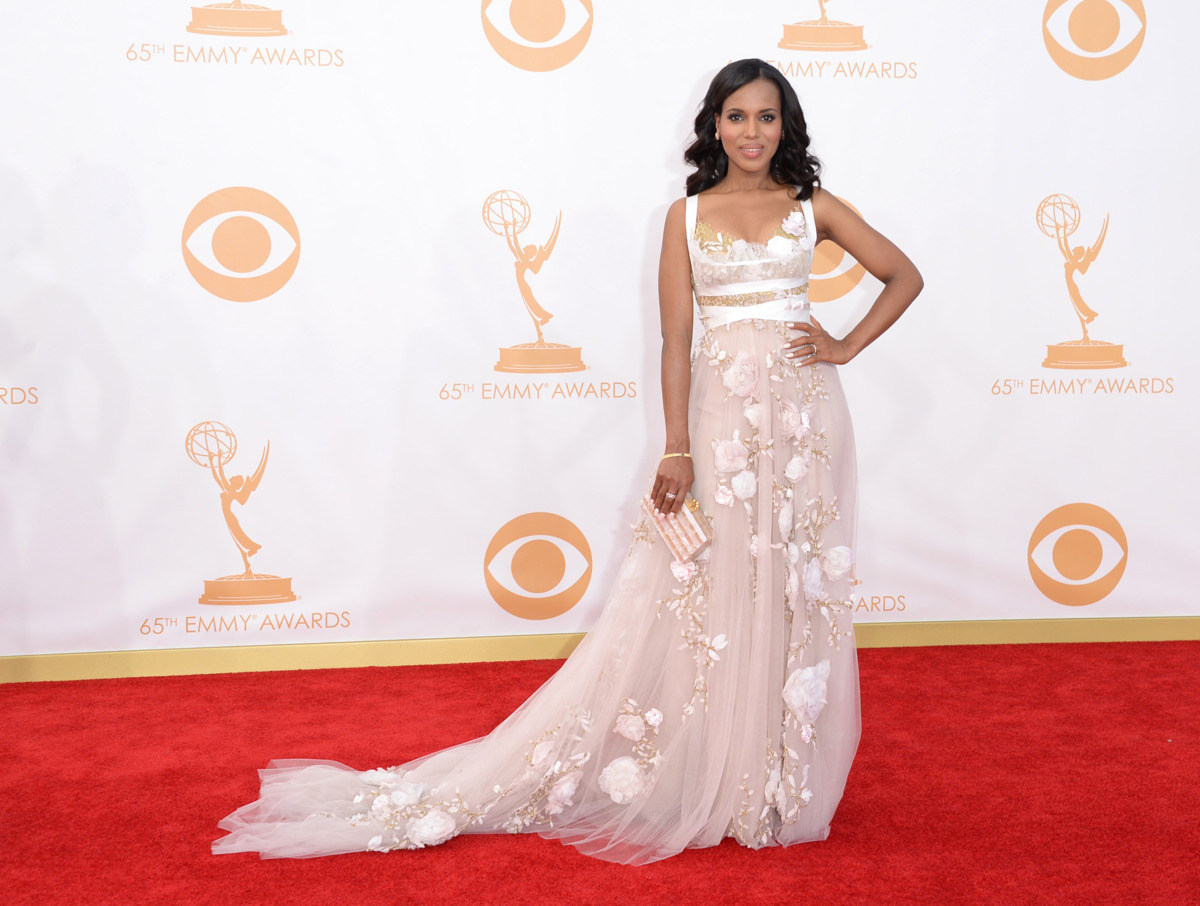 Julianna Margulies: such is her power that's she's making a Rorshach test bedsheet toga looking freaking amazing.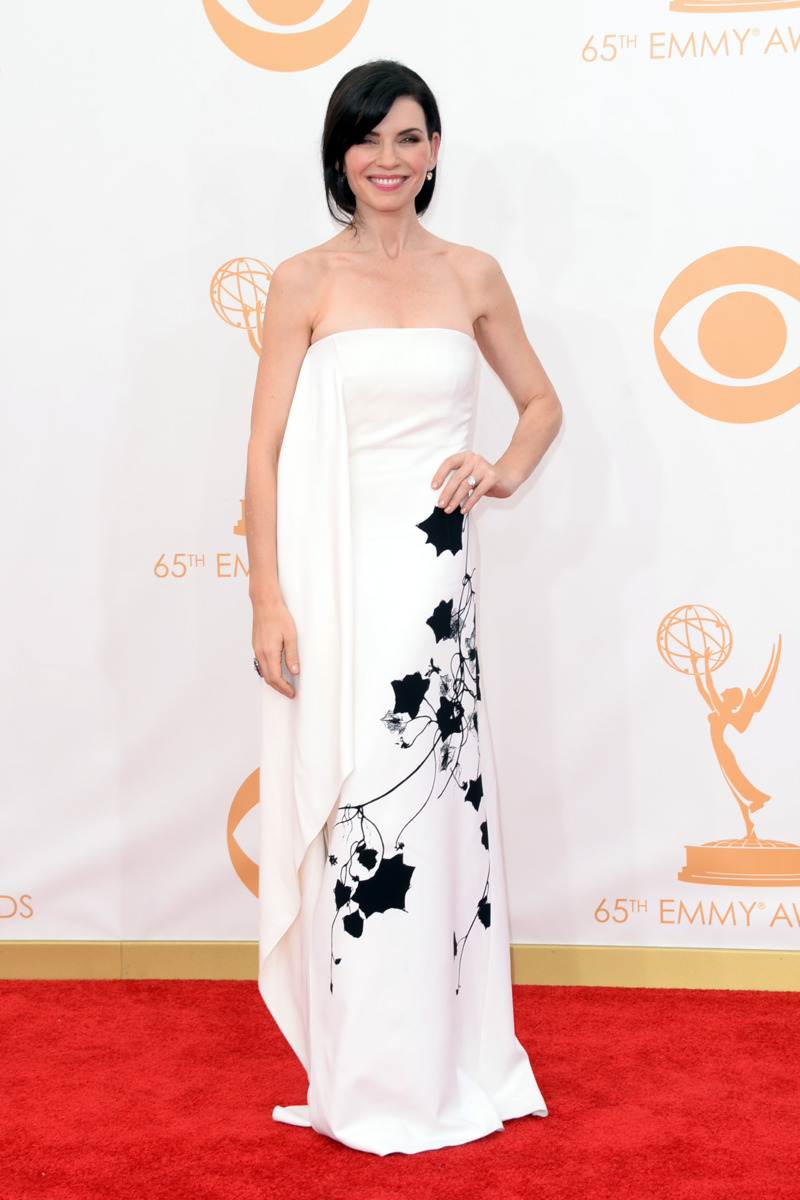 Also in the "showing 20-year-old-starlets how it's DONE" file: Julia Louis-Dreyfus, Laura Dern, and Allison Janney. These ladies have this incredible gravitas that makes what they're wearing beside the point, doesn't it? They make everyone else look like they're playing dress up.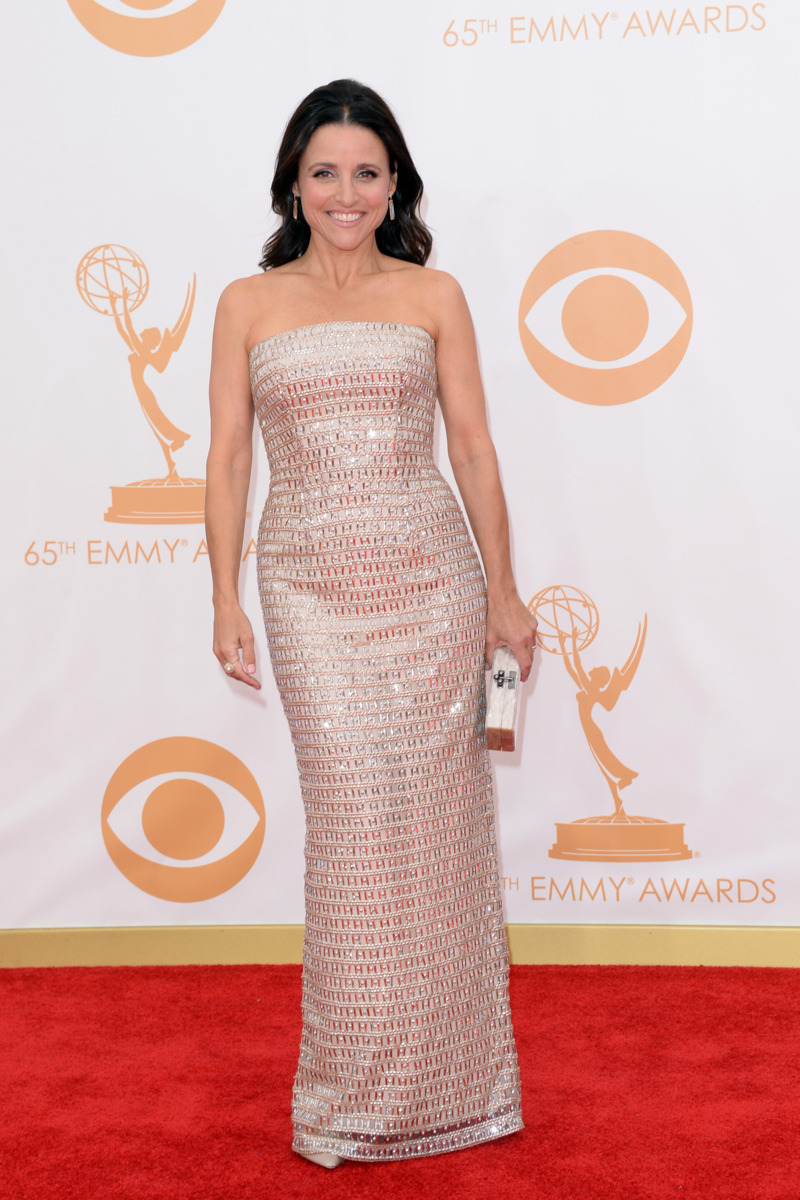 Bad, sad eye makeup that's distracting completely from her dress: Anna Faris. Her lipstick was sort of a mess too. Appreciate the idea in theory, but for someone with her coloring to pull off this yellow, the makeup has to be pretty near perfect.
She looks great, but contrary to what pictures of my 1998 high school Valentine's day dance might show, I can't get behind the see-through midriff panel.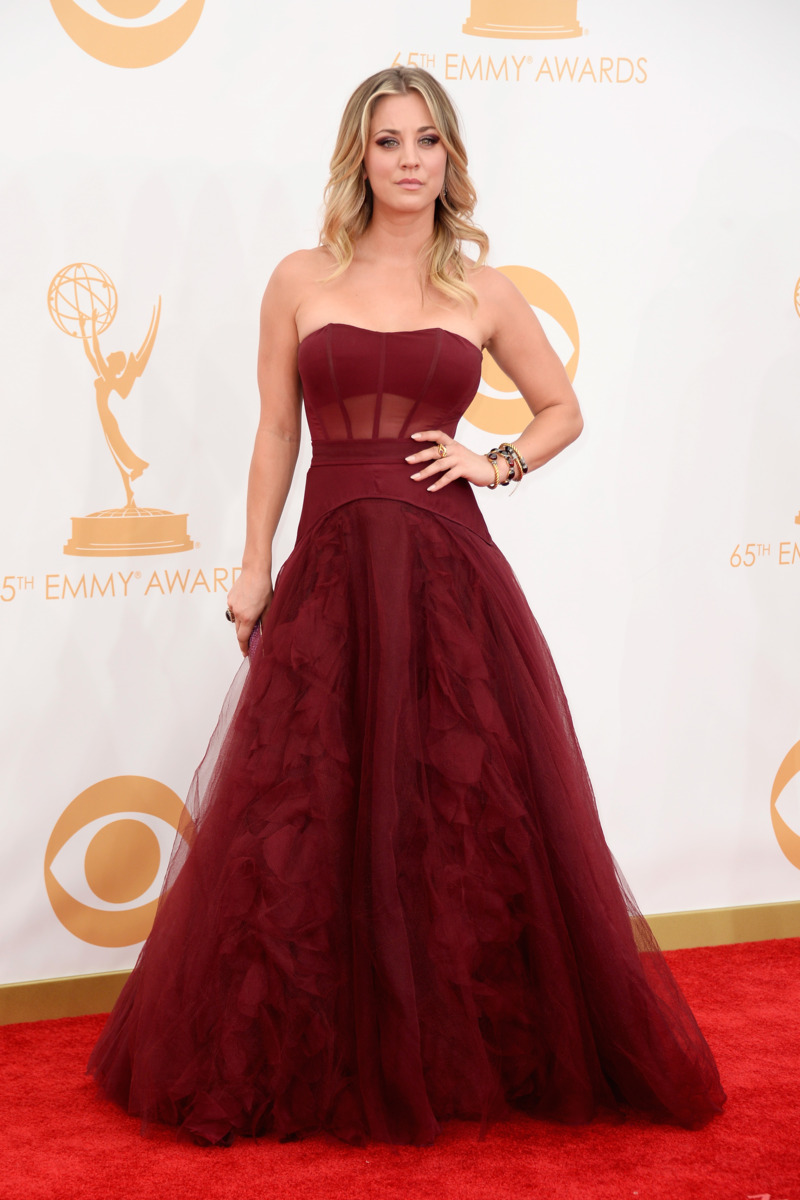 Elisabeth Moss is making Peggy Olson proud. I think this is the best she's ever looked on the red carpet.
Linda Cardellini might as well be wearing a sign that says "Yes. This is how much better-looking I am than my Mad Men character
Sylvia Rosen
. I KNOW." She looks gorgeous. And so much better than her alter ego.
Jane Lynch,
this
is how one does a lady tux. Some better shoes would have earned her a slow clap, but the tassel necklace and the fit are doing most of the heavy lifting here. She looks great. I hope
Ellen is taking notes for the Oscars
.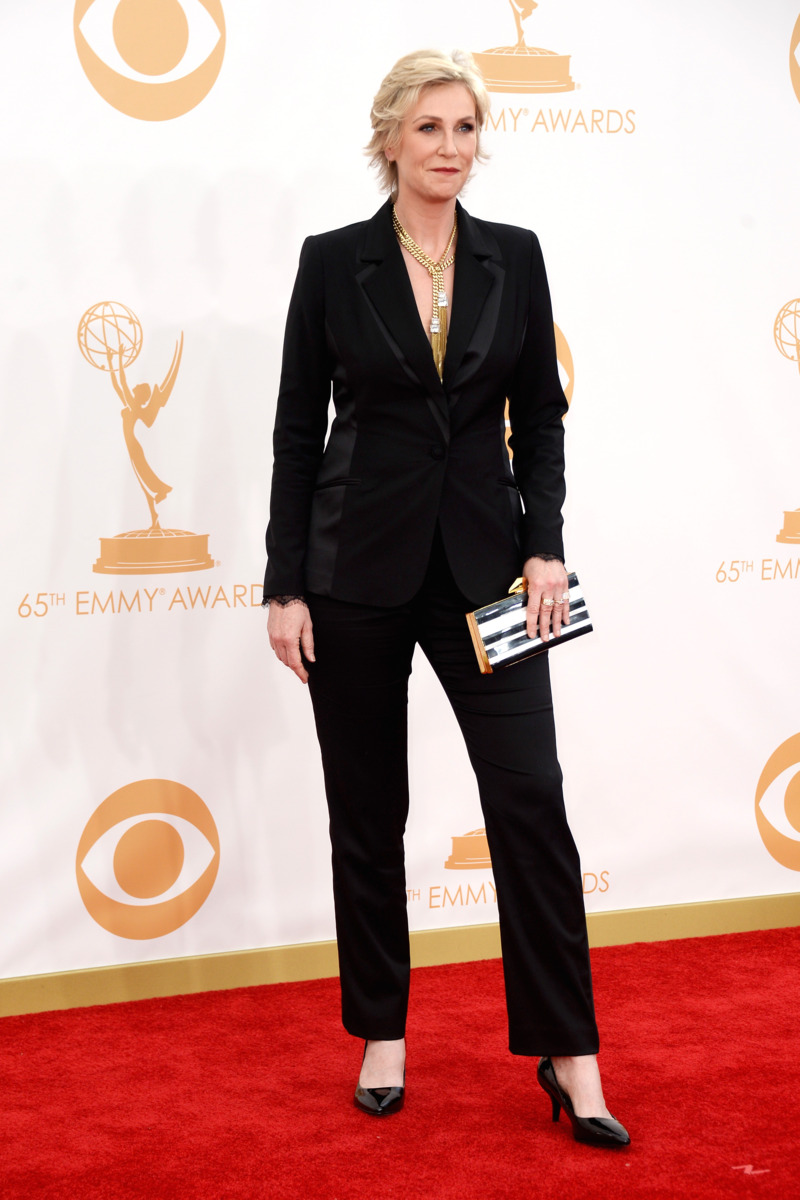 I can't wait to read the tell-all account from the high school senior who Carrie Underwood got in a fight with over this dress at
Cach

é
. Wonder what that girl wore to homecoming?
I don't watch Breaking Bad, unlike apparently everyone else on earth, so I have no frame of reference for what Anna Gunn here looks like on her show. However, she looks like a total knockout on the red carpet. (I also, upon seeing her was like, "whoa, Anna Gunn has guns," and was immediately embarrassed that I think such stupid jokes even to myself.) This is completely stunning, and a great way for a fair-skinned blonde to wear this pale pink color.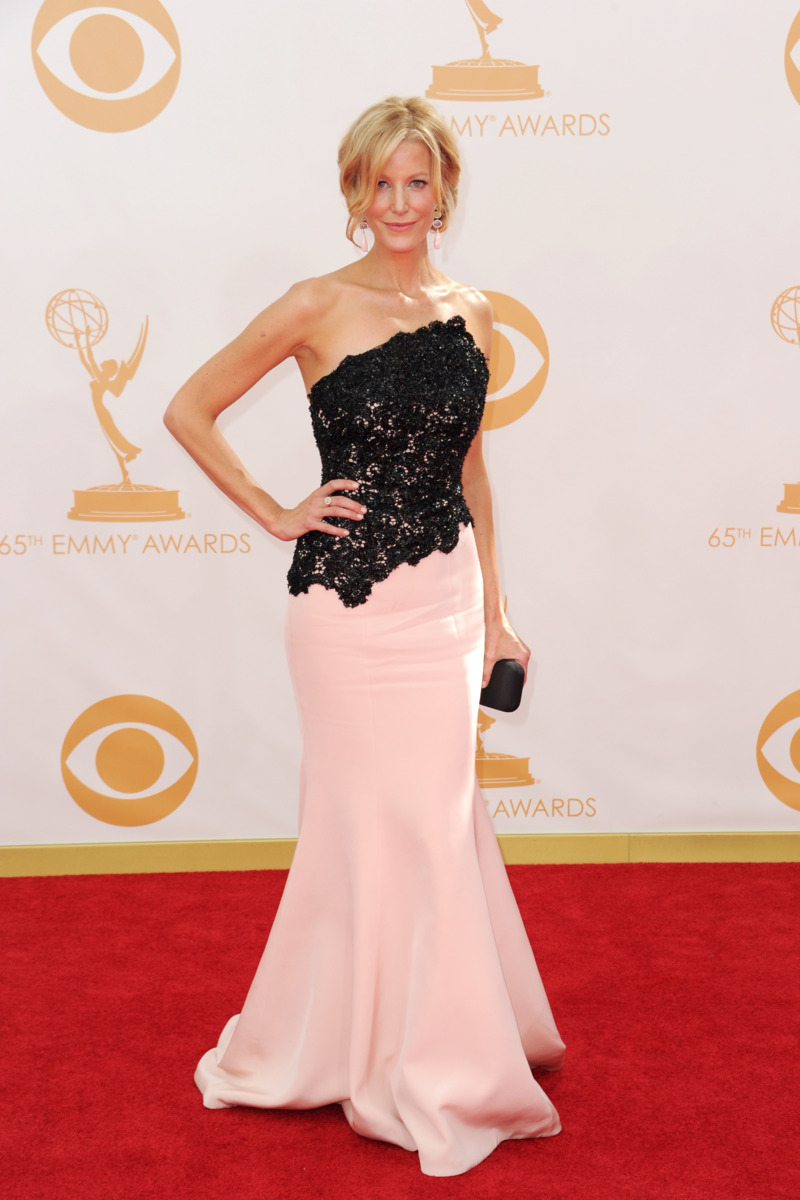 Connie Britton, let's just agree to never mention this to Tami Taylor, who would be so disappointed in you for skinning some old lady's couch to wear to the Emmys.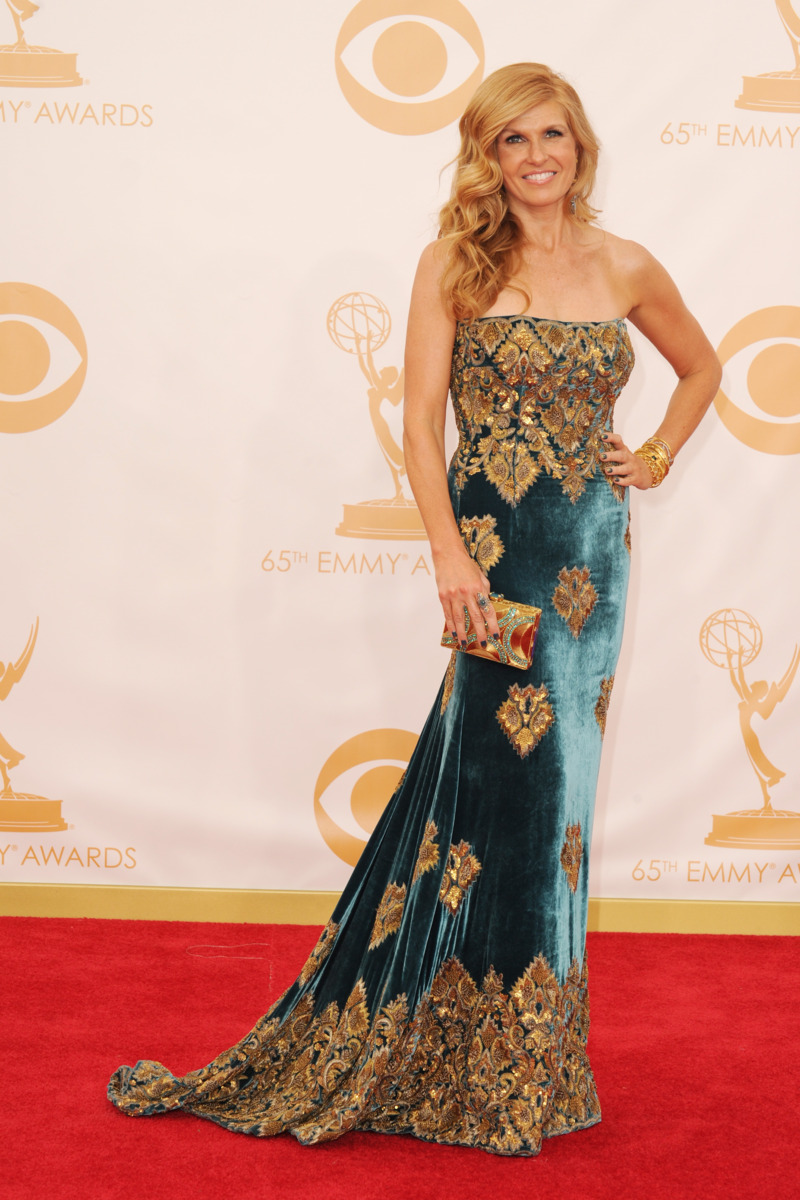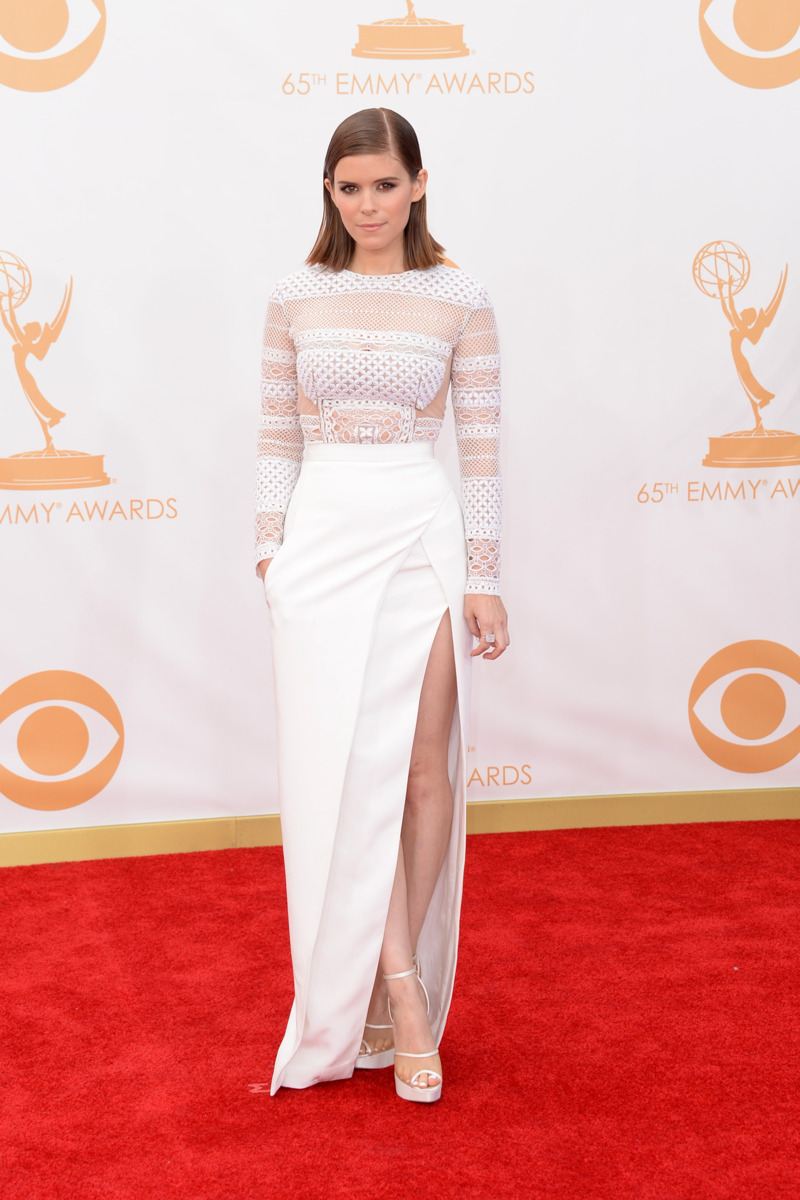 She looks great, but at this point, her showing up in this silhouette is a snore. And when you look like this and you're wearing this dress, "snore" should be the last thing on anyone's mind.
Tina Fey looks simply tremendous in this cobalt blue number. The cut of this is really flattering on her. High five, Tina.
On the other hand, Tina needs to slip the number of her stylist to her friend Amy Poehler here, for this is nothing short of sad-making. However, she gets a pass for
hijacking Ryan Seacrest's red carpet interview of Carrie Underwood
with the best question ever asked in the history of interviews: "Can we talk about religion and politics and do some swear words?"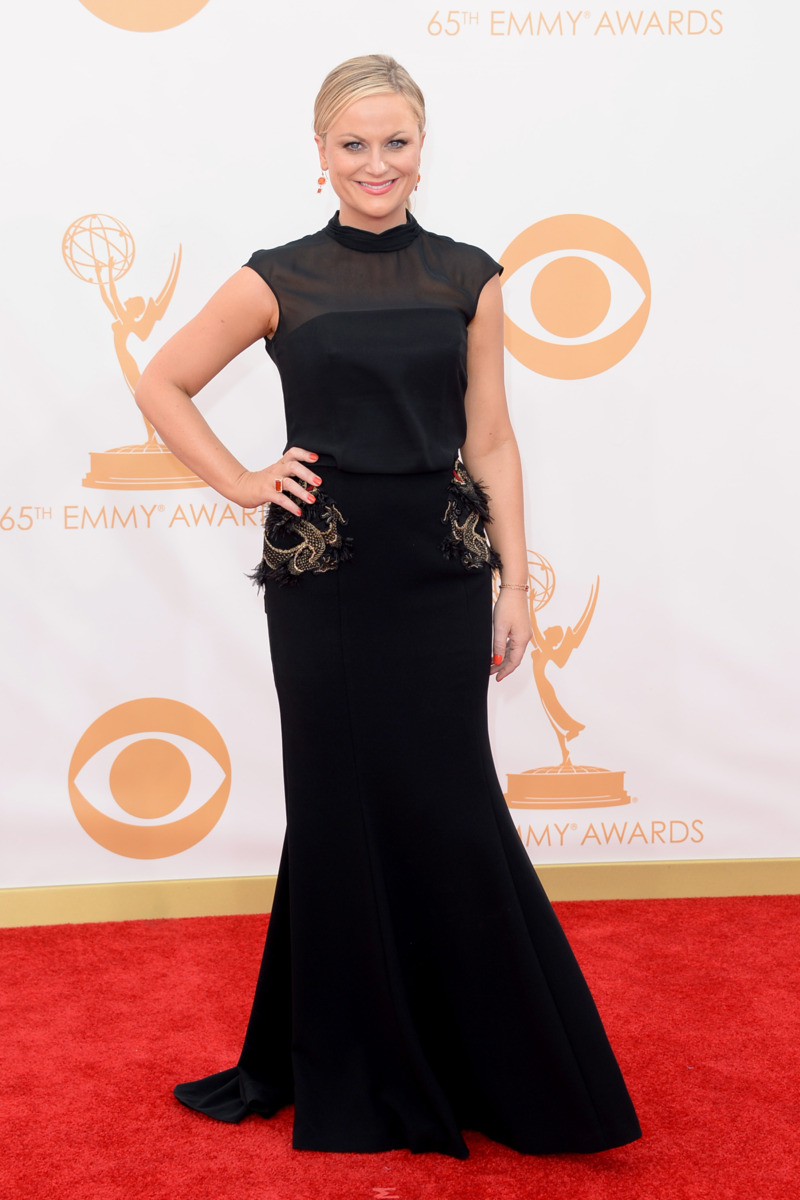 I am a big Jessica
Paré
fan and this is not her best effort. The color is pretty but the bodice almost looks like it's making her slouch. The dress on its own merits is not my favorite, but it's sort of eerily reminiscent of
this dress January Jones wore to the Emmys a few years ago
. It's like all the Mrs. Drapers eventually resort to sad blue mullet dresses when they give up.
Speaking of blue d
é
ja vu dresses, Zoe Deschanel showed up in the second cousin thrice removed version of
Anne Hathaway's disaster Oscar dress
. This looks better than that did, but still not great. It just doesn't look like her, does it?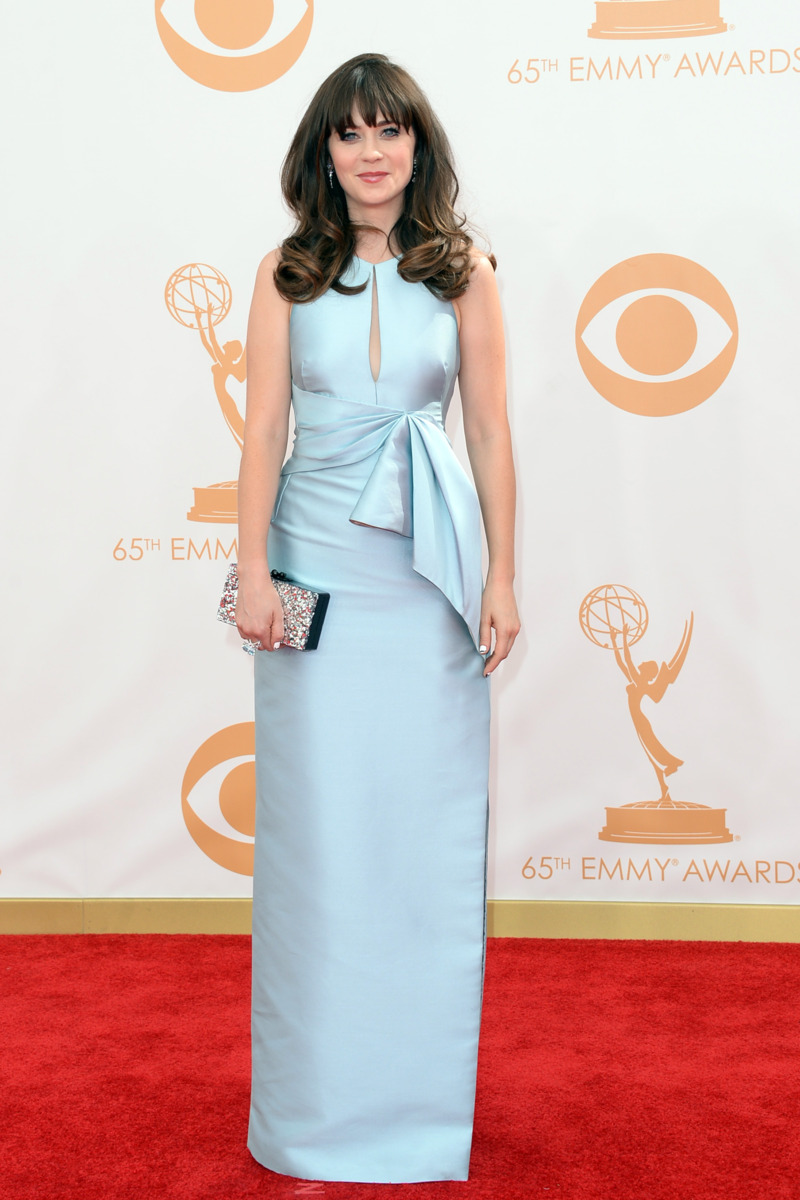 Julie Bowen apparently asked for Princess Diana's wedding dress, just with short sleeves, thanks.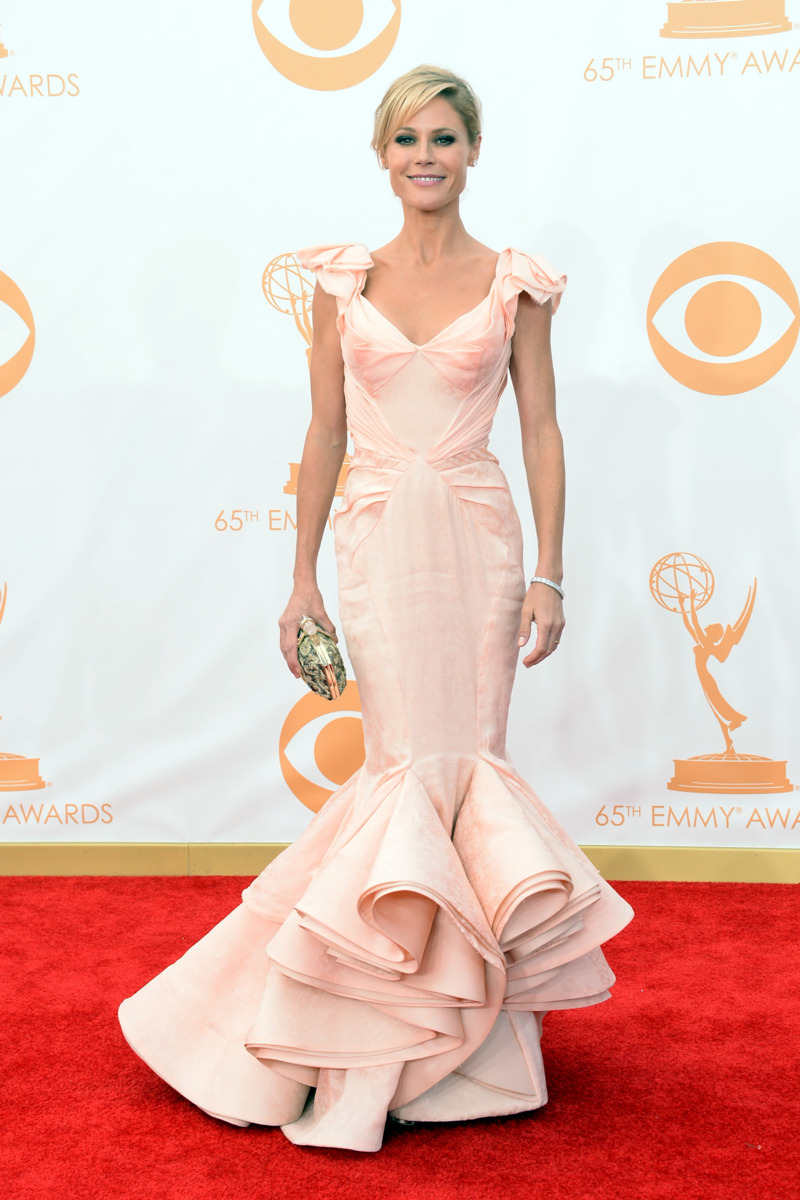 Mayim Bialik (yup, Blossom) is now on The Big Bang Theory.
She wears very modest gowns on the red carpet for religious reasons
, which, as pretty much anyone who has ever gone shopping with her mother for a formal gown with sleeves can attest, is a difficult task. I rather like this one and the color is just resplendent. Her hair looks pretty too.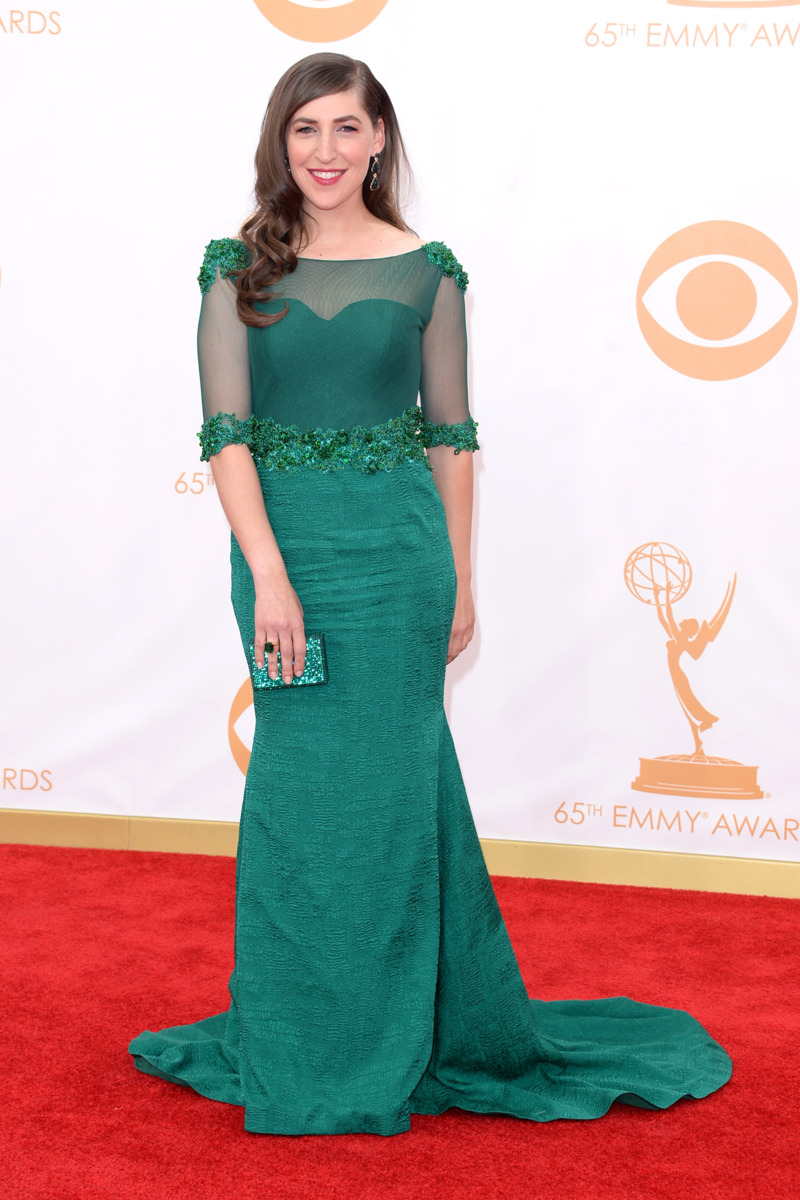 Mindy
! You look so pretty, girl! Another delightful color, especially for fall. High five for being season-appropriate. This chain-link detail is perfect for her girly, but I'm still a funny badass personality, too.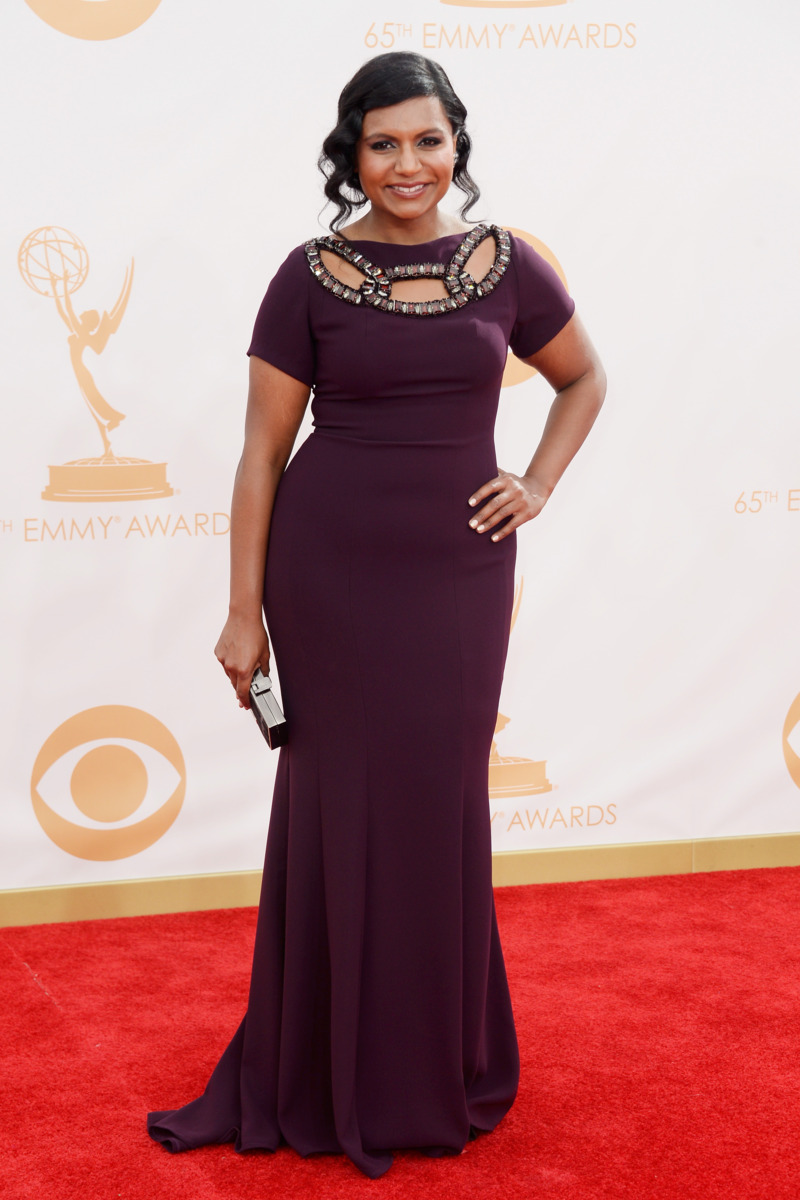 And as your reward for reading this whole post: LUMBERJACK HAMM in a white dinner jacket. Hopefully we'll
all get invited
to the
Losers Lounge
next year, because it sounds awesome.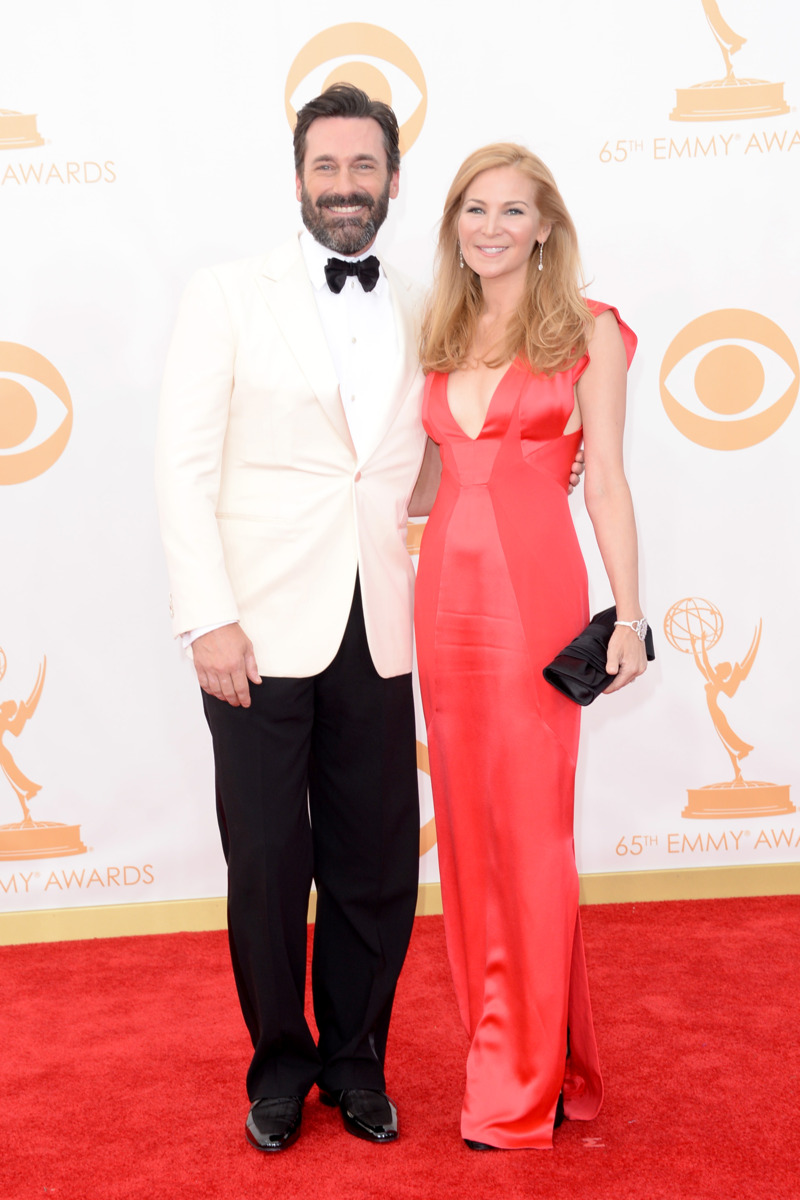 (Top photo from The Hollywood Reporter; all other photos from The Cut.)