The annual Met Gala was held on Monday night to celebrate the
Metropolitan Museum of Art's new Punk exhibit
. The theme was punk, and coupled with the super-high-fashion, risk-taking vibe of the ball, there was some real potential for fabulousness and absolute disastrousness. Behold . . . what happened:
Madonna showed these baby starlets how punk is DONE. I mean, she WENT for it, that's for sure. (Also: apparently she
wears this just hanging around the house
, which is all kinds of fantastic.)
Sara Jessica Parker's ensemble is nothing short of insane, but it is somehow working for this very, very particular venue and event. There is literally nowhere else in space and time that a Spartan warrior mohawk headpiece, splatter painted ballgown, and velvet (suede?) tartan over-the-knee boots would be acceptable, but she is really nailing the formal event/nod to punk thing. (Side note: how on EARTH did she get to the Museum? Teleportation? Seated in the back of a moving truck?) Also:
this move
by J. Law is amazing.)
I would've happily worn this had my invitation not been lost in the mail (next year, Anna!): Cara Delevingne.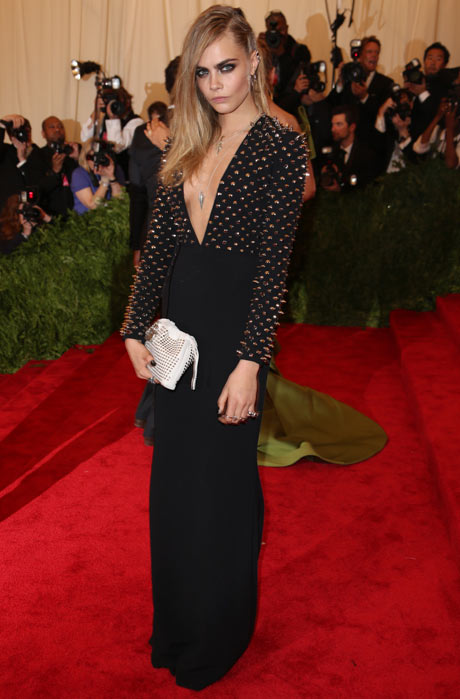 Sweet commitment to the theme, and she looks like she's having a great time doing it: Sienna Miller. That is a perfectly deployed studded jacket.
Somehow the crazy hair is putting the spotlight on her really quite beautiful face: Miley Cyrus. This is event-appropriate, though likely not for ANYWHERE else. (Do you hear me, Miley? NOWHERE.)
Second verse, same as the first: Coco Rocha. Taking a chance and, I think, sort of nailing it, but this is a one-time deal, okay Coco?
A few ladies who took less of a chance on the punk front, but subtly played to the theme with a little bit of edginess:
Carey Mulligan.
Kirsten Dunst. I'm really liking this, even though the "she's molting!" joke would be very, very easy.
Dakota Fanning. I usually HATE love-handle-curtains cutouts, but these actually really enhance the dress, as opposed to screaming "Now showing, on the main stage . . . her SIDE!"
Rosie Huntington-Whitely. I can't believe I am endorsing this. It's for the VENUE, okay? I must have Met Ball Fever.
Kerry Washington. I'm digging these gloves, and her hair had purple streaks. Well-deployed cray, Kerry.
Christina Ricci. This Vivienne Westwood is very Vivienne Westwood, but it was well-chosen for this shindig. The fishnets were a cool punky style choice.
Admirably tried to go punk (I think?) but went off the rails:


Nina Dobrev. NO SKIRT DRAPES OVER PANTS, PEOPLE. This has seriously never, ever looked good on anyone.
Allison Williams. Kudos to her for going outside of her wheelhouse, but she loses points for looking like she appeared at this event by rising from a puddle of ink on the floor.
And now, say hello to the glove brigade:
Beyonce. Watch your back, because Katniss Everdeen is surely slinging some arrows your way for this Girl on Fire Victory Tour outfit (gloves, dress, train, boots and all). Also:
train wrangler alert
!
Kim Kardashian. Floral cat burglar. This is exactly what one would wear to a formal event where one needs to slither through gardens undetected, thieving flowers left and right. I ALSO find this hilarious because she is clearly doing the "I'm hugging my belly so people will know that this is a BABY BUMP and I am not just sporting a gigantic midsection because I ate too many burgers" pose, but the effect is completely lost because her hand is camouflaged. Trying to pick out her fingers is seriously impossible and I cannot stop laughing at it.
Leelee Sobieski. Weirdly cool and delicate gloves that while not strictly punk, are kind of awesome nonetheless.
Going to be in a lot of hot water at the Enchantment Under the Sea Dance for showing up with a leotard-with-cutouts-clad-date that very seriously threatens exposure of her nether regions: Tom Brady (and Gisele). But, as per usual, their ridiculous good looks really distract from the crazy.
Cool in theory, x-rated in execution: Kristen Stewart. This looks like a graphic representation of the world's most gigantic set of ladyparts. Shudder.
People who looked pretty but completely ignored the theme and look like they might have wandered into the wrong party:
Gwyneth Paltrow.
Zoe Deschanel. Don't get me wrong, I love this dress. For a formal July wedding. Or an extremely fancy tea party. The Kentucky Derby. Really, any high summer event that does not have a "Punk" theme.
Jennifer Lawrence. This has a "
Mannequin
" -esque feel to it in that it seems like her
Dior ads
have sprung to life and are walking and talking.
Getting a whiff of "punk bride whose prim mother forced her to play it straight for the wedding her family arranged to a wealthy heir to pull them out of financial ruin, and she is totally pissed about it because she wants to be with her rocker boyfriend forever": Rooney Mara.
These four make up a seriously disappointing quartet, given their penchant for bringing the cray and their presence at an event with a crazy theme. I think they all knew expectations were high, and to a certain extent, all choked. But what a fantastic singing quartet this would be.
Niki Minaj. You put together punk and Niki Minaj, and you get a late 90s tankini top in navy blue? I object.
Gwen Stefani. You guys,
this
is what she wears to the
playground
. My expectations were higher than this.
Rita Ora. I mean, on a regular person, bared midriff-and-side would hardly read as playing it safe, but this looks downright demure on her. Perhaps the chain detail was a little punkier in person than in photos?
Katy Perry. Though the crown alone lifts her over the other two, because SHE'S WEARING A CROWN.
Winner of the musical ladies, though I imagine this is what she wears to the grocery store and pharmacy on a Sunday morning: Florence Welch.
Beats Katy Perry's crown seven days a week and twice on Sundays because it is made out of safety pins: fashion editor Giovanna Battaglia.
Even better use of safety pins: Hailee Steinfeld. A spiky bag and shoes would have made this an absolute winner for me, but the dress itself is awesome.
Stolen from the Dowager Countess' closet and denuded of its lining: Minka Kelly.
Hogwarts School of Witchcraft and Wizardry Divination teacher: Ashley Olsen.
Speaking of Hogwarts: such is the power of Hermione Granger that she's pulling off this look better than Miranda Kerr, who I swear travels with her own lighting crew.
Game of Thrones bride: Linda Evangelista.
This is actually pants with a caped peplum top, which makes me think she showed up a few years late for the "
Superheroes
" themed Met Ball: Jessica Pare.
OMG how many were wounded as a result of giving Cameron Diza a hug? (Also: takes some nerve to try to pull this off in the post-caped-Gwyneth-at-the-Oscars era. I think G's was better.)
Dick Tracy on Broadway!, starring Elizabeth Banks. (Also: not punk, unless you count her shoes, which are making her ankles look like they've grown really long, stringy hair. But that's grunge, no?)
Props for giving a nod to the punk theme and trying out crazy hair: Anne Hathaway. I love when other people make ill-advised hair color decisions, as I am prone to the same. It feels fantastic, and I get Anne here just NEEDED it. I don't love this dress, but A for effort.
Really giving it a go with the punk hair, crazy eyes, and spiky purse, but when your dress has covered buttons on it, I don't think it's going to be quite enough: Emily Blunt. (Don't worry I still love you BOTH.)
I think they're trying to nod to punk using crazy eye makeup, which has to be seen to be believed:
Lily Collins (in what looks to be a serious attempt to get away from her princess image).
January Jones. I just . . . wtf? YOU ARE BEAUTIFUL STOP TRYING TO MESS THAT UP.
Ginnifer Goodwin. Really cool dress . . . too bad her crazy eyes are scaring me too much to look at it.
Elle Fanning. I CAN'T EVEN. It's supposed to be punk, not tripping hippie with Pilgrim apron and horned eye makeup. That little vent aside, take a moment to consider that Elle here is FIFTEEN. Now count your blessings that you weren't plastered all over the internet going to formal events at that age (God help me), imagine the snippy things her older sister said to her while they were getting ready (because in my mind, Elle and Dakota totally get ready together in the same bathroom and bicker about stealing each other's makeup), and ask yourself HOW DID HER MOTHER LET HER WALK OUT LIKE THIS?
You can check out last year's coverage
here
. Who's your winner?