When I was a little girl, I would spend hours -- hours -- sitting at my grandmother's vanity table. It was gold, with metal legs that formed in curlicues, and had a matching little seat with a round lavender cushion on it with a button in the center. She also had one of those light-up mirrors that you could adjust to mimic different kinds of lighting. (Obviously imperative to know how an eight-year-old's complexion would look in an "office" setting.) And this was all independent of the dozens upon dozens of bottles, brushes, compacts, palettes, and other grown-up-lady-stuff that I had gleeful free reign over. It was divine. There was no place I'd rather have been than smearing red lipstick all over my face, unless, of course, it was playing with the shoes and bags in her closet.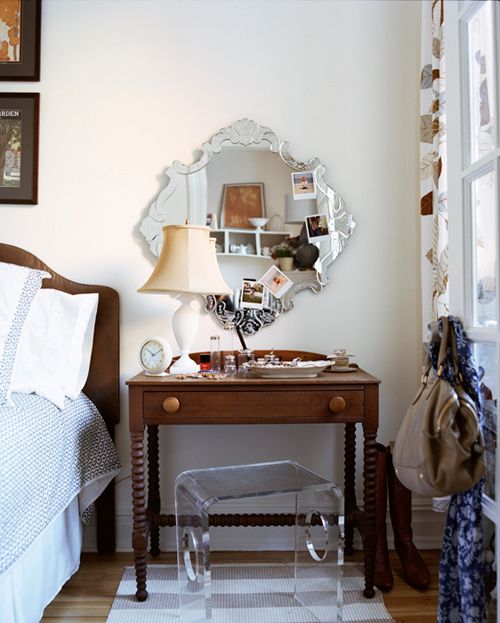 In my vanity-playing-days, I just assumed that I too would someday have my own, but alas, my bedroom is too small for such a luxury. And, let's face it, 90% of my makeup applying takes place in the car.
That hasn't stopped me from collecting ideas, though.
And someday, Scarlett-O'Hara-God-as-my-witness-style, I'm going to have one. And it's going to have a fancy mirror, a dainty little chair, and a little bottle of Chanel No. 5, my grandma's perfume, just like she had.
How about you? Do you have a handly little spot like one of these to get ready? 
(Images from
Martha Stewart
,
i suwannee
,

Good Bones Great Pieces via Little Green Notebook

,
House Beautiful via Apartment Therapy
,
Sunset Magazine via Apartment Therapy
,
Country Home via Apartment Therapy
.)